"Diversity is the most important thing in creating great companies that thrive and correct their business results. "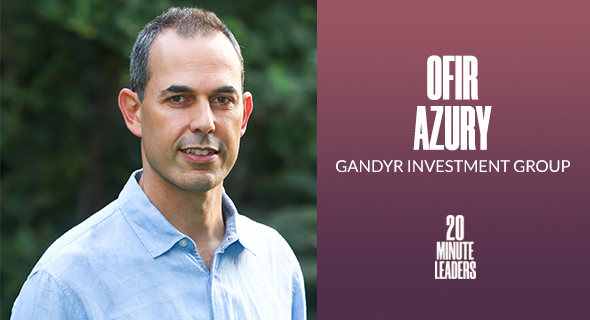 Measuring impact is the key to real impact investing, shares Ofir Azury, head of technology investment at Gandyr Investment group. It's easy to say in a pitch that you want to make an impact, but committing to measuring it will set you apart. But Azury says the entrepreneurs themselves are also a crucial part of success. He is looking for teams with strong values, the intention to make a difference and a plan to achieve it. Diversity within companies is also important for their growth and ultimate success. One initiative that Azury is involved in is bringing the Druze into the high tech realm, which helps individuals as well as the companies that hire them. Showing others that investments can generate social good and financial returns is what drives Azury in his work at Gandyr and his own Gooday Investment Company.
Click here for over 20MinuteLeaders
Ofir, why do you call yourself an impact investor? What does it mean?
It all started 11 years ago, when I started advising Gandyr on different types of investments, mainly in the technological field. Gandyr is a family office in which he carries certain values, starting with the Gandyr Foundation. We managed to create an impact investment room, a virtual room, not just making money from general investment, and then put it into philanthropy. Try to integrate this into a whole process that combines your values ​​and implements them.
I started working with different startups, starting with companies like Nutrino. We had started to find the eating behavior of each user. We took it and turned it into something much more valuable for diabetics. This created a whole other layer of impact for this type of patient and was successful in reducing the sugar levels.
This kind of situation where you have an impact for the product and also for the company; I always divide them in half. By dividing it into product impact and business impact, you can incorporate different layers of impact that the founders and the business can provide.
How do you try to measure the impact and the potential risk?
You used the most important word: measure. I think to make an impact investment you have to measure the impact, not just say it in a pitch. When I'm looking for start-ups, the most important thing is entrepreneurs. I looked for VIP teams. VIP stands for V, values. What drives the founder's career and values? I is the intention. What does he want to do? Then the P is the plane. How do we want to achieve this? Also, diversity is very, very important. Integration into the entrepreneurial team is really important to achieve something that has concrete impact measurement and also business and financial success. It's really important to work with these entrepreneurs, understand that kind of intention and make it a measurable plan.
Do you notice any different patterns when you look at these different startup opportunities?
Totally. Again, the entrepreneur is the most important thing. But more than that, in the impact zone, the SDGs are one of the most important things you can use as an investor. There are a lot of different aspects that are measured: the founders, the topic they choose, how they will work with the company and all of its stakeholders. The first signs are if you want to measure it, if you want to achieve it, and how you're going to do it, and that's where I started working with them.
Tell me about Gooday Investment Company.
Gooday is a family owned investment firm that my wife and I started to advance in technology investing and philanthropy, such as impact investing and social investment bonds. Social impact bonds are very interesting. We were part of the prevention of diabetes in Israel. We've had 700 people susceptible to diabetes in about a year, and you're changing whole wellness and lifestyle habits. By doing this, we are actually giving value to payers, like Social Security or HMOs. Instead of paying dearly, they managed to ensure that these patients would not be diabetic.
This kind of operation allows the investor to get his money back, but it is also based on success. If we manage to bring back a large number of pre-diabetic people, we manage to help achieve a social enterprise goal, but we even derive an income from it. There are different types of models that really steer the entire social impact area into areas that can be an overall financial result. It's something that really motivates me.
Ofir Azury, Head of Technology Investments at Gandyr Investment Group. Photo: Private
Traditionally, people have observed that these patterns do not match financial returns. What I'm hearing from you is finding this win-win situation and this economically viable model can have a real impact.
Totally. There is an income sharing agreement (ISA). Think, for example, of the student who lives on the outskirts and has no access to high-tech society. He can't really afford a bootcamp. You can take the risk of it and say, "We'll take care of the payment." But you will only pay for success. If we increase your salary, or just a percentage of your future income. We manage to create social mobility. It is an effort based on success.
We are currently involved in another project in the Druze region. It is a social fund in Israel. It's about creating new social investment bonds for this community that don't generally go into the high tech realm. Many different companies in the Haifa area and other areas say, "Why don't I have Druze in my company? We have to educate them. We need to help them get the right resumes and work on the interviews. Diversity is the most important thing in creating great companies that thrive and correct their business results. This is one of the examples that really fascinates us.
Tell me about the Israel Forum for Impact Economics.
This is a forum that started in Israel and tries to combine regulatory areas and different types of business flows in impact technology to promote and create a viable economy for them. This can mean working with different pension funds to allow their savers to have an ESG component (environment, social, governance). We think millennials are the most important areas in this kind of puzzle. They really want to work in places that serve their own values. It is, we think, is going to be a change.
Tech impact is the most important area because ESG, for me, is the new DNA of the company. If you know how to treat your employees, your suppliers, your entire region and your physical environment, this is what you are going to employ and use a lot of new workers who would love to work with you. Making ESG your DNA has many advantages, not only for the field, but also for creating real added value for the company and reducing risks.
Are you ready for some fun questions?
I want to ask you something. What is your contribution to all these sessions that you have done?
I am so excited that each person comes in and tries for 20 minutes to distill what they are passionate about. When I actually think about the journey they had to go through to come up with these ideas, that's the inspiring part for me. I'm learning that you can't skip trips. I am delighted to jump into deep water with these ideas and try to claim them for myself through real experiences. It is this process of continuous improvement and continuous reflection that fascinates me.
Most importantly, this is a people business. Technology is on our side. But again, it's all about people, what makes them tick and why they're passionate. I think you are doing a great job.
I have funny questions: favorite subject in school?
I think the most important things I have had have been to go to the environment and the youth movement.
One of your models?
I think what Ronald Cohen does is really bring an entire scene into a new era. He really is a role model for me.
Three words that you would choose to describe yourself?
I am a trustworthy person. I try to be upfront and be candid about what I think and try to be ethical in business.