Large mixed-use scheme planned for suburb of Nottingham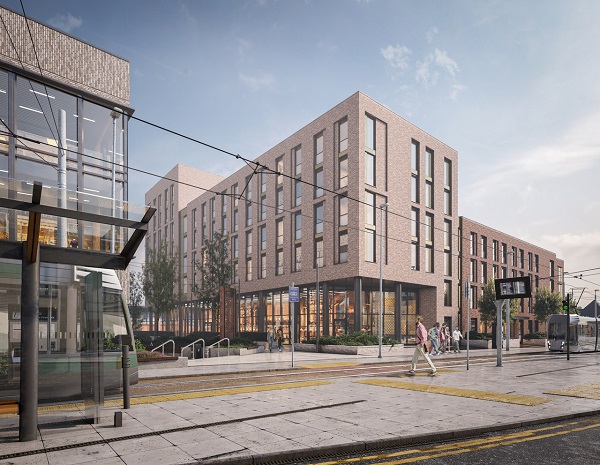 Developer Cassidy Group has submitted plans for a mixed-use project on the outskirts of downtown Beeston.
The seven-story mixed-use program of business/commercial units will also include 419 student beds.
Sam Rose of Cassidy Group said, "We are delighted to bring this student program to Beeston. Not only will students love living there – so close to the amenities they enjoy, as well as their college campus – but we are bringing an abandoned site back to life.
"We feel the program fits in well with the fantastic downtown Beeston. From our research, we know that Beeston is becoming an increasingly desirable location for families and students. By providing purpose-built student accommodation (PBSA), we can open HMOs (multiple occupancy houses) in which families can live.
"By creating sensitively designed student programs with fabulous interiors like the one we offer for Beeston, we know we can not only create something that benefits the region, but also an additional student environment where people really want to live. "
Cassidy says the program will be heavily dependent on local transportation. It will offer limited parking – only allowing deliveries and disabled parking.
"The proposed development will attract students from the University of Nottingham. To discourage students from parking on or near the site, we will ensure that students take full advantage of all transport services, as well as scooters and bicycles. We will also provide student passes to use the tram," Rose said.
"Encouraging students to use Beeston's extensive public transport network will benefit the environment, as will the system's energy-efficient design, which guarantees an EPC rating of at least a 'B' rating, otherwise 'A'. ".
Figures produced by the Higher Education Statistics Agency (HESA) show a full-time student population of 63,000 in Nottingham in 2019, up 22.1% since 2015. Acceptances from both universities have also increased. Since 2015, the University of Nottingham has seen a 13.1% increase in annual acceptances and NTU has seen a 56% increase over the same period.
"An independent report found that 69% of direct hire beds available in Nottingham are supplied by HMOs, with less than a third supplied by private PBSA operators. At Beeston, with no direct rental PBSA available, 100% of direct rental accommodation offered to students consists of Beeston houses divided into apartments," added Sam.
"With Beeston continuing to be popular with families, we know from speaking with local estate agents that there are few places to move into – so our first planned PBSA will free up these homes for people who really need them. need."
The research also found that the annual growth in demand for student accommodation in Nottingham at 4.9% could mean a shortage of student beds in the city of at least 6,021 by 2024.
"There is currently no live PBSA development south west of the University of Nottingham and so this Cassidy program is badly needed," Rose added.
Businessman Ross Considine, owner of the nearby Ottimo, said: 'I'm sure I speak for a number of retailers and restaurant and bar owners when I say I would welcome this program with open arms.
"We opened our third restaurant and bar in Beeston because we could see what an amazing and bustling town center it was. In our first few weeks of operation, we've had great feedback – and welcomed students too. This program will further boost local businesses and restaurants and of course local transport. Student attendance boosts local economies, and student spending is worth tens of thousands of pounds a year to Beeston – and that must not be forgotten. We want the city to continue to be the bustling, lively and exciting place that it is.
The program will be presented to the planning committee in July and there will be public engagement sessions for the local community and local businesses in May and June. Cassidy is working on six other mixed-use schemes across Nottingham.